Apple 13.3 MacBook Air i5 128GB 1.3GHz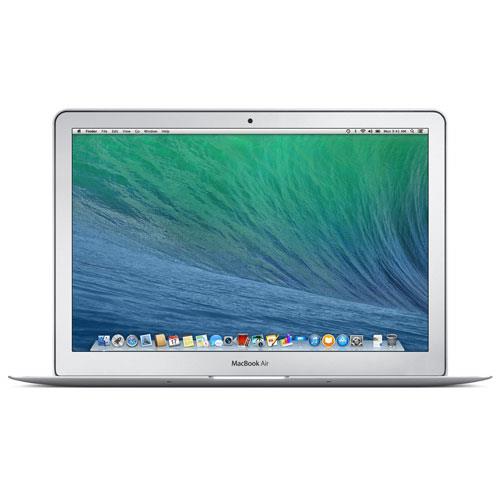 A new definition of sleekness and power, Apple's 13.3 MacBook Air i5 now features an incredible 12 hour battery life and 4th generation Intel core that lets you work longer and faster.
With a durable aluminum unibody design, 0.68-inch thin and 2.38 pound body, the MacBook Air is sturdy yet lightweight. So even if you're inside a coffee shop or frequently on the go, you can always carry the MacBook Air with ease.
The battery lasts up to 12 hours of unplugged productivity, or 10 hours of iTunes movie playback. Powered by Intel core i5 processors, this MacBook Air is designed to provide an energy-efficient and high-grade performance. The Intel HD Graphics 5000 adds to its proficiency by giving you 40% faster graphics, especially if you're a game junkie or media app savvy.
Connect to your wireless networks in a blink of an eye with the 802.11ac Wi-Fi technology. With the new AirPort Extreme and AirPort Time Capsule, connecting to Wi-Fi is three times faster than previous MacBook Air models. You can also connect to your other devices through Bluetooth technology, eliminating the need of tangled wires and grounded cables.
Flash storage would never be a problem as the MacBook Air features the new Thunderbolt ports and USB 3. Now, you can turn your MacBook Air into a complete computer workstation by connecting any device into any of the MacBook Air I/O.
With a resolution of 1440 x 900 pixels, the MacBook Air's display is a design and engineering marvel that will leave you in awe. Illuminated by LED backlighting, colors are more vibrant and brighter, making sure every multimedia project you do or every game you play is of the highest definition.
And while it doesn't fail on screen display, the 720p FaceTime HD camera would not disappoint you either. The widescreen format will capture everything (and everyone). The dual microphones also provides optimal audio capture so you can record or transmit audio clearly. The microphones reduce background noise it captures so FaceTime conversations become more pleasant.
The Multi-Touch trackpad offers more than just clicks. With simple, smooth and responsive Finger Gestures, you can interactively navigate your MacBook Air with ease: swipe, rotate, or zoom.
Light, reliable and efficient, the MacBook Air will surely make your work a breeze.