Kensington Bluetooth Wireless Keyboard for iPad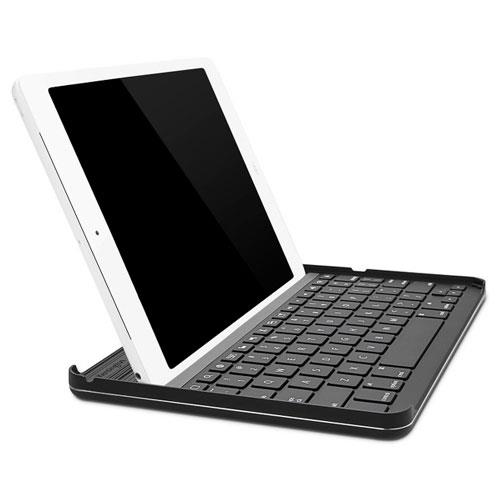 The Kensington KeyCover + Hard Case Keyboard for iPad Air will give you more comfort when typing on your favorite tablet. It consists of a stylish case made up of aluminum, with a wireless Bluetooth keyboard, and a KeyCover magnetic well that secures your iPad Air both in portrait and landscape mode. The sophisticated hard case has dark anodize finish to complement the color of your iPad.
The built-in keyboard of the Kensington KeyCover Hard Case includes buttons for specific iOS functions, such as the home button and the volume and brightness controls. You will be able to quickly access the home screen, your multimedia files, the copy-paste function, the search bar, and other features of the iPad.
The Kensington Bluetooth Keyboard features high-performance material that is specifically made for the touch typist. It has QuickRelease technology that allows you to safely remove the iPad from the case easily and with minimal effort. The Kensington Wireless Keyboard also provides easy access to your iPad Air's controls and connections. It lets you use the front and back camera as well without even removing the iPad from the case. The Bluetooth keyboard is also designed to withstand smudges and fingerprints. It has rubber feet for stability as well as added security.
This wireless iPad keyboard also comes with a charging cable, SkinIt offer, and User Guide. If you don't want the hard shell type, try the leather Kensington KeyFolio Bluetooth Keyboard Case for Apple iPad.