PNY XLR8 120gb Internal SSD 2.5 Inch Solid State Drive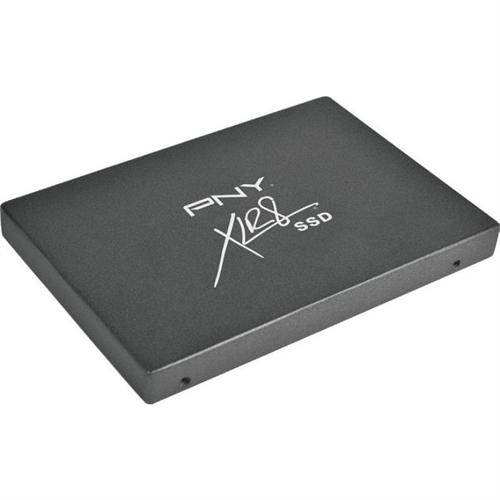 The PNY 120GB Internal Solid State Drive (SSD9SC120GMDF-RB) provides exceptional performance tailored to gaming and video applications and offers the best value and durability for the price. The XLR8 SSD is an entry level, solid-state drive assembled in the U.S. at a top-notch plant using the latest cutting-edge technology. The high speed and long-lasting storage capacity of the PNY XLR8 make it ideal for photo and video applications and ensures that this 120gb SSD will deliver the functions needed by today's heavy media user.
This solid state unit has a sequential read rate of up to 520 MB/sec and a sequential write rate of 520 MB/sec. Its internal hard drive has a capacity of 120 GB, allowing the launch of various operating systems and programs. The PNY SSD has a Compute grade NAND flash, providing data preservation far exceeding some competitors. It is a 2.5 SSD with a 6 GB/sec interface capable of 128-bit AES encryption. The SandForce 2281 controllers provide further assurance of high capacity. An estimated lifetime of 1,000,000 hours is testament to the quality of the unit.
The fact that this 6Gbps ssd is fully assembled in the U.S. ensures that it is compliant with TAA and GSA schedules, making it suitable for United States government acquisition.
Shoppers who have grown dissatisfied with the limited storage capacity and duration of their existing solid state hard drive will be delighted with the PNY XLR8 120gb Internal SSD 2.5 inch Solid State Drive. The long, flexible cable allows media data to be shared quickly and easily. The trim shape and light weight of this PNY solid state unit add to its convenience. The cable is active (self-rolling) as opposed to the cumbersome passive cables of many competitors.
Media enthusiasts seeking the latest in drives will find what they're looking for in this solid-state hard drive. Most users will notice that their system's performance is dramatically increased. Programs will have shorter loading time, and the drive can perform its functions with less power than older drives.
This 120gb SSD is shock-resistant and has no moving parts. The result is a quick, quiet, extremely durable drive that is easy to transport and unfailingly dependable on arrival.
Shoppers should buy this 2.5 SSD over others because of its high durability and technological advancement. In older systems, old-style hard disc drives have always been one of the most unreliable parts of a computer, failing frequently and necessitating expensive repairs or replacement. In the PNY XLR8 120gb Internal SSD 2.5 inch Solid State Drive, consumers can finally get a better replacement for this weak link in their media system and enjoy superior quality, long data storage and damage resistance.